Toronto & GTA

: Get a quote. Fix your plumbing problems. Be fully satisfied.

Plumbing is easy with Tornado Plumbing & Drains. Compare ways to solve your plumbing issues, and save money. We care about you, your home, and the work we do. See all cities where Tornado is.
Does everybody know exactly what a sump pump actually is? This very useful, protective, and problem-preventive device is often ignored by many homeowners in Toronto. The system is quite simple though essential. When it breaks and fails to perform its functions, the consequences may be really disastrous. The damage caused by water leaking may be estimated in thousands of dollars. The costs of repairs, daily routine, and working process disruptions may also be included in the estimate. It is also worth considering the higher costs of insurance for the following years. So, it is reasonable to spend some money and time once to avoid such catastrophic outcomes and possible long-term problems.
That is always a good idea to acquire a spare replacement pump for your household. It works well for those homeowners who want to have all the tools on hand just in case. When there are floods or heavy storms, household stores, and home centers arrange selling out of pumps. However, even if you purchase a replacement pump, it will not help you when you are away from home, for example, on vacation. The electricity outage or the pump breakage may happen any time, especially, at night when the harsh storm breaks out. Here is the most attractive advantage of sump pump backup systems whatever – the reason for the breakage of the pump is not important because the system will always back up in any situation to save even the most disastrous day.
When the houses are equipped with sump pumps, they are considered extremely valuable. Even if the excess water penetrates into the lower layers of your home, for example, into the crawlspace, the sump pump system will easily cope with it to prevent the drastic damage of your property. No matter whether you have already had some issues with crawlspace flooding or you have just finished your construction work and haven't had any flooding problems yet, it is reasonable to acquire and install a good-quality sump pump system in your home. You can always contract Tornado Plumbing & Drains for putting this idea to life.
Sump Pump Services & Products:
Pump systems for backups
Sump pump systems
Pump replacement
Installation of sump pumps
Services for repair and maintenance
Why Should You Choose Tornado Plumbing & Drains?
The Tornado Plumbing & Drains Company also serves the maintenance of sump pump systems to its clients. The types of work provided include inspection of check-valves, examining the system before rainy seasons like spring or fall, sump pits cleaning, discharging and charging the pumps and the entire systems, and some others.
Cleaning the sump pump in Toronto & GTA appropriately is very important. So, our experienced plumbers can professionally take it apart and then put together again. These regular actions will help prevent the backing-up of the main drainage system and basement flooding. The latter can become a true disaster and it is rather expensive to fix it. You just need to call Tornado Plumbing & Drains and ask for the maintenance service of the sump pump. We are always ready to do that and will be happy to help you.
You can also plan to get the sump pump system for your Toronto home. Start the implementation of your plan by clicking below. We also provide free cost estimates for Ajax, Etobicoke, Oakville, Mississauga, York and other places.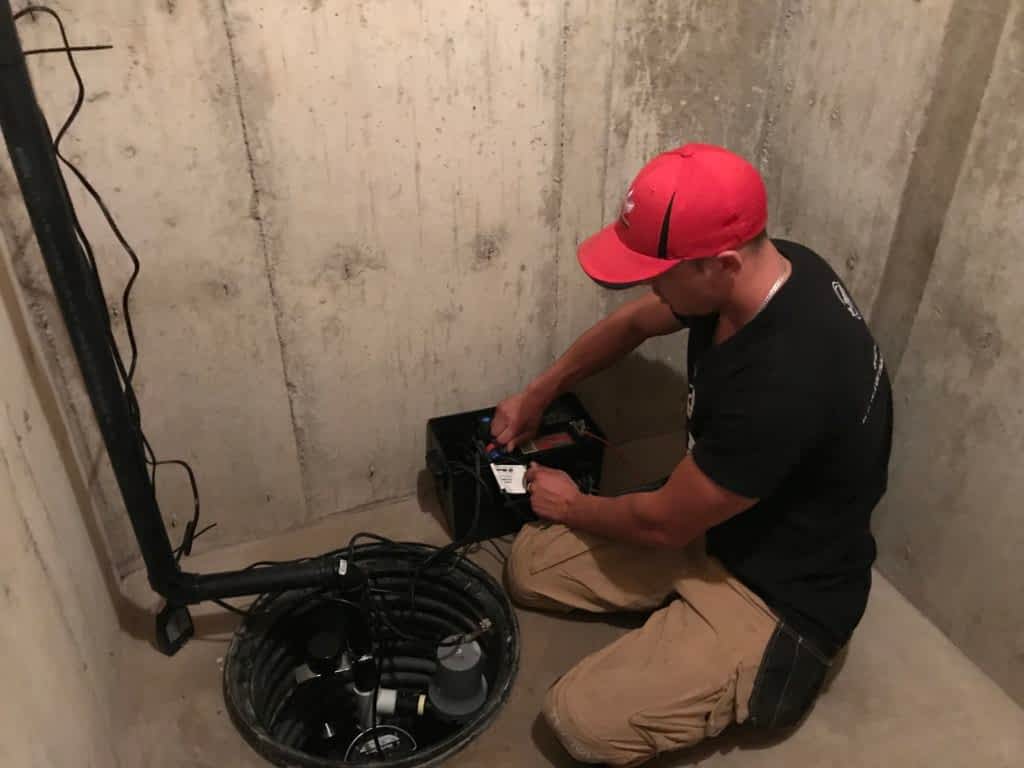 Toronto & GTA: choose a services