Crawl Space Services
According to Anchored Walls, the crawl space in any house is not the place everybody thinks so much about. When things go well with it, the place can remain unnoticed for a long time. Only if something is wrong with the crawl space, you start taking care of it.

Common Problems
·         High Indoor Humidity
·         Sagging Floors
·         Condensation
·         Mold and Mildew
·         Wood Rot
·         Standing Water
·         Foundation Cracks
·         High Electric Bills
·         Vapor Barrier Problems
·         Floor Joist Issues (Soft, bouncy, or sagging floors)
What Are the Signs of a Bad Crawl Space?
Musty odors and poor indoor air quality
Allergic reactions and worsened asthma symptoms
Feeling of dampness in the living area
Our Services in Toronto & GTA
Crawlspace Cleaning
Structural Repair
Renovation and Encapsulation
Steps of Crawl Space Repair and Cleaning
It is necessary that your crawlspace should be treated properly all the time to avoid any severe problems. Otherwise, they can result in bad damage to your house or just awful odors that can penetrate into the living areas. Moreover, the repair fees can be disastrous to your budget if the problem is too complicated to be fixed at once.
Step 1. Crawl Space Repair
Finally, fix your nasty, energy-wasting crawl space! If you get water in your space area beneath your home, you may wish to consider the crawl space repair services from Tornado Plumbing & Drains as soon as possible. Failure to have your wet crawl space problems fixed right away may lead to a variety of problems for the rest of your home, including:
Solutions:
Foundation Repair
Wet Crawspace Repair
Replacing Support Beam
Replace Insulation in the Crawl space
Vents Repair
Foundation Repair. Crawlspace repair isn't exactly a DIY experiment. If the foundation is damaged, there may be a need for replacing piers. That may also require fixing cracks, underpinning to increase its strength, mud-jacking for releveling the house, or other rather costly methods. If we compare steel-based and wooden-based foundations, we will notice that steel-based ones are more difficult to repair and the cost of such fixing is higher than for wooden-based constructions.
Wet Space Repair. Unfinished crawlspaces in the area of Toronto & GTA can get wet easily because of humid springs and summers. Groundwater also adds much moisture to them. Tornado Plumbing & Drains can make your house dry. Due to the expert services of the company, the space will be usable. We take into account the following factors:
Evaporation of standing water. If a crawl space does not have any encapsulation, it can get the evaporation of moisture from the ground.
The air from outside. The wet outside air can penetrate into the crawl space through the vents.
Replacing Support Beam. Before replacing a beam, you need a thorough inspection and design from a qualified structural engineer because such a job is a very specific structural form of foundation repair. The engineer needs to consider the overall condition of the foundation, its structure, the placement and number of support columns and their footings. Of course, it is required to know the new beam length.
Replace Insulation. When the insulation is old and wet, it can collect mildew, mold, and/or rodent excrement on it. If the crawl space is properly insulated, the energy efficiency and home durability increase. It blocks the radon, moisture, and the air from the outside.
Replacing Crawl Space Plastic. Before replacing plastic, you need to fix wet insulation, mold, moisture, or any leaks and water damage. Accordingly, the overall cost of repairs will go up. There is a need to replace a vapor barrier when the plastic is damaged, the seals are leaking, or the insulation is wet. Then, this construction will carry out its function of reducing humidity levels.
Vent Repair. If the vents in the crawl space are not installed in the right way or not maintained properly, that can lead to the appearance of mildew and mold, wood rot and pests, or excessive moisture, and all that leads to severe structural issues.
Cleaning
If the following issues can be seen in your living area or crawl space, you will need to hire a professional for the thorough crawlspace examination.
The crawl space cleaning services include the following:
Mold Removal. Getting deprived of mold includes the inspection, cleaning, and mold growth prevention. It is almost impossible to eliminate the entire mold and mold spores from the inside of your house. However, if you can control the moisture indoors, you can prevent mold growing.
Crawl Space Fungus Treatment. Fungal spores often cause health problems. These problems may involve either allergic reactions or still more severe disorders. The main task is to block them from creeping into your living area. Most often, fungus appears in the crawl space. So, if you detect it there, do your best to remove it instantly.
Reasons to Clean Up It is always important to clean the crawl space for avoiding unwanted issues. Cleaning will create the safe environment in your home free from mildew, dust, and mold. Among the benefits of the cleaning, there are the following ones:
Health: If a crawlspace is dirty, it can harbor different allergens, so keeping the space clean is quite beneficial for your health.
Structural Strength: If the crawl space is cleaned up regularly, that allows for avoiding the damage of your house structure caused by water and pests.
Energy Efficiency: You can save your money if the insulation is intact, the HVAC unit and ductwork are clean, and all the systems run efficiently.
Moisture Control
Keeping Pests Out
Step 3. Maintenance
If you're worried about your crawlspace—of if you just want to save some money—follow these five rules: Encapsulate, Install New Insulation, Schedule a Cleaning Service, Block Entry Points, Dehumidify.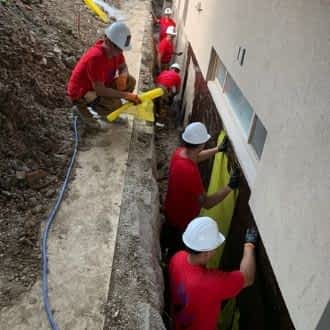 Crawl Space 
Common Crawl Space Problems

Standing Water & Flooding

Musty Smells and Odors

Crawl Space Moisture

Crawl Space Mold

Cold Floors

Sloping Uneven Floors

Sticking Doors

Crawl Space Wood Rot

Crawl Space Solutions

Moisture Control

Structural Repair

Crawl Space Cleaning

Vapor Barriers

Crawl Space Encapsulation

Crawl Space Dehumidifiers

Crawl Space Repair

Crawl Space Insulation

Water Management

Crawl Space Water Removal and Cleanup​
FAQ of crawl space
How much does a new basement waterproofing cost?
The average cost to waterproof a basement is $0,000 to $0,000, or between $3 and $9 per square foot for materials and labor.
Can I fix/repair/do it by myself?
Yes, you can fix yourself one small area, but it really depends on your particular problem. As a full service crawl service contractor, we offer several solutions, both from the interior and exterior, as opposed to a one-size-fits-all system. Our Basement Advisors are trained to recommend the most practical and economical solution.
Should I fully encapsulate my crawl space?
The full encapsulation is needed when the amount of standing water is rather significant, and when moisture or high humidity creeps through the foundation. This type of repairs and installation provides a great bonus of saving energy as well as the possibility to fully control the moisture.