Our Basement Waterproofing Services in Toronto
Are you looking for Basement Waterproofing in Toronto? Our company provides quality repairs, installations, and maintenance services.
The lowest price in Toronto is guaranteed for foundation repair and waterproofing!
More than 3 thousand happy clients will assure you that Tornado Plumbing & Drains is not just about repairing the basement leaking issues. The proven technology used by our experts for waterproofing will provide you with the long-lasting effects. It means that your wet basement will become dry and never leak again. You will not have to guess where the source of the leakage is. Our technology uses the findings of professional expertise and its high-quality professional implementation. The individual approach is our most prominent characteristic feature. We understand the vital needs of our clients and treat them properly. If you are looking for the best and No 1, respectful and reliable waterproofing and plumbing company in Toronto which deals with basement issues, you have arrived to the exact destination.
Exterior Basement Waterproofing
External (or exterior) waterproofing of the basement is quite cost-effective when it is completed by professional installers. Among many other expert solutions of the problem, this method is characterized by utilizing membranes and polymers for coating the exterior surfaces. It helps prevent moisture from penetrating inside and causing severe damage of the whole structure.
For a number of years, the Tornado Plumbing & Drains Company has been working on the market of professional waterproofing. The highest and most reliable level of protection is ensured by external waterproofing work. It is mostly used in the area with the high possibility of flooding to prevent severe damage caused by excess water. Our experts perform their operations quite transparently because they understand well all the processes and their effects, and they can explain them to their clients. Every single step of the procedure can be explained to you clearly, so you will always know what stage the work is at and what to expect of it.
You can view the video clip below to check our proven approaches to waterproofing of basements. The external walls of your house's foundation will feel steadier, more reliable, and protected with our methods. The latter are being successfully implemented nowadays for the exterior waterproofing work to make your basement dry and safe. The issue of the leaking basement in your house located in Toronto will be solved once and forever. You should be confident about the high quality of leaky basement (s) issue solutions with the best and brand-new waterproofing techniques.
Interior Basement Waterproofing
Opting for both exterior and interior waterproofing is the most preferable variant for many homeowners though it is rather costly. For this reason, it is better to choose interior waterproofing first. Of course, you don't want to give unpredicted leaking any chance by adding one more layer of protection. However, your budget may not allow for it. That is why try waterproofing the basement walls from the inside first in your Toronto house. That will solve the issue by pushing the already leaking water away from the interior space that has already been completed. Remember that by solving the problem with leaking through the walls of the foundation in this way, you will not remove the source. When considering the interior waterproofing, you need to install the drainage pipes along the inner walls of the house. The process consists of some steps as it will be defined by waterproofing experts.
Repair Basement Leaks
To keep basements safe from leaking water, it is important to understand how the technology works. When you know how to do it yourself, that will become beneficial for your budget. Applying some effort and time to the process, you will be able to seal the porous surfaces in the basement located below and above the level of the ground. The purpose of the technology is creating the special coating resistant to water. When the lower layer of the house is constructed from masonry, such a technology is quite reliable to prevent the damage from unexpected leaking water or abrupt flooding. The effect is obvious – the leaks are stopped and the water flow is held back from the inner part of your house to always keep it safe and free from moisture.
Get a quote. Waterproof your home. Be fully satisfied.
Waterproofing is easy with Tornado Plumbing & Drains (Basement waterproofing company in Toronto). We will help you to prevent floods and damages in your house and save money. We care about you, your home, and the work we do. See all cities where Tornado is.
Waterproofing Companies T
oronto
It is not a secret that a leaking basement diminishes the value of your property. It decreases by about 10-20%. Since your house in Toronto is your most valuable investment, think about the timely fixing of all the issues of such kind.
The materials used for construction, even if they are of the best quality, can be affected by different factors. They can include unfavorable weather conditions, soil shifting, the sharp changes of temperatures, and many others. The ground in the area where you house is located can be saturated because of heavy rainstorms and snowfalls. When the soil is saturated, the excess moisture penetrates into the concrete regularly.
Having encountered a leaky basement after or during the heavy rain, address this problem to Tornado Plumbing & Drains, a plumbing and waterproofing company locate in Toronto. You will be provided with a cost estimate developed free of charge by the best experts. The basement will be repaired and stay dry for a long time.
Basement Waterproofing Problem Signs
Wet Basement Floors
Wet Drywall
Wet Basement Carpet
Musty Basement Smell
Condensation
Poor Drainage
Efflorescence
Leaking Basement Windows
Leaky Water Heater
Sump Pump Issues
Water In Basement
Why Do I Have These Problems in My House?
Water can enter your basement because of a variety of reasons including plumbing leaks, poor drainage, and foundation wall cracks. No matter how it got there, it's never good to have leaking or standing water in your basement. If you can trace the water back to its source, great! If you're confounded by where it came from, it's time to call in an expert inspector – like one from our JES team – to complete a thorough evaluation of your home and find the culprit.
One major issue affecting your home that leads to water in the basement is soil – the type of soil your home was built on and the health of that soil.
There is a variety of soil types across Ontario – sand, silt, clay, and a combination of the three. Sandy soils tend to drain water faster, silt has more intermediate drainage properties, and clay is more likely to hold onto water and expand and contract as it become saturated and dries out.
Here's a look at how soil can impact water intrusion and your home:
Clay Bowl Effect
Obviously, a large hole had to be dug in the ground to accommodate your home and its foundation. Once the foundation was poured and walls were constructed, a gap remained between the structure and the existing earth. The soil that was removed during the excavation process was then replaced or backfilled around the foundation walls. This soil that was disturbed is looser and fluffier than hard-packed, untouched soil. Because of this, water collects in the soil immediately surrounding the house, creating a "clay bowl" of sorts. This water then puts pressure on foundation walls, causing cracks, and allowing water to seep inside. The contractors will typically fill in this space with a portion of the soil they dug out when building the foundation. This soil, known as "backfill" will always be looser and more porous than the hard-packed "virgin soil" that surrounds it.
Hydrostatic Pressure and Flooding
"Hydrostatic pressure" is the technical term for water pressure in the soil around your foundation, and it's a major cause of basement water problems. The foundation concrete is a porous material. This means that near-microscopic holes and passages in its structure allow water flow through. Although water flows through concrete much slower than water passing through, say, a towel, it can happen when the soil outside the foundation contains high hydrostatic pressure—lots of water content. Hydrostatic pressure is a major cause of basement water problems, potentially causing leaks, or worse, cracking and bowing of the foundation, but it can be fixed, and even prevented.
Cove Joint Seepage
The cove joint is the juncture where the floor and wall meet. With heavy or prolonged rains, ground water along the foundation walls and underneath the basement floor can rise, allowing water to seep upward through this joint. This is commonly referred to as hydrostatic pressure.
Foundation Wall Crack

Foundation wall cracks are the most common source of seepage in poured concrete foundations. They are caused most frequently by stress, settling or shrinkage during the concrete's curing process and finally leaky basements in your Toronto house. In general, most cracks are hairline (less than 1/8" wide) and run vertically or diagonally from the top of the foundation wall down to the bottom. They also go all the way through the wall which is why they leak. In the event your foundation walls are covered by paneling or drywall, our Toronto Basement Waterproofing Company can usually locate the crack(s) on the exterior if the top of the foundation wall is exposed above the ground level.
Interior Drainage Systems
To reduce the hydrostatic pressure causing both the cove joint and floor cracks to leak, interior drain tile will need to be installed. We'll place a perforated pipe under the basement floor, wrapped in a fabric filtration "sock," and embedded in gravel to carry ground water to your sump basin.
Leaking Sump Pump Pit
The most common causes of basement leaks in Toronto is pressure created by water in the soil surrounding the foundation. If a sump pit is not big enough, then water could be escaping into the basement of your home or business. Also a leaking sump pump can be a real problem when it comes to keeping your basement dry and free of molds, mildew and more. When you find a leak in your basement pump system it is important to move fast to find the leaky part and get it patched.
Basement Window Wells
A window well is the area outside a below-ground-level basement window that both retains the surrounding dirt and drains away rainwater. Sometimes the drainage system breaks down — or perhaps there's no drainage system to begin with.
If this happens, the window well fills up during heavy rains. And since window wells aren't designed to be waterproof, the water enters the house through the window frame and seals.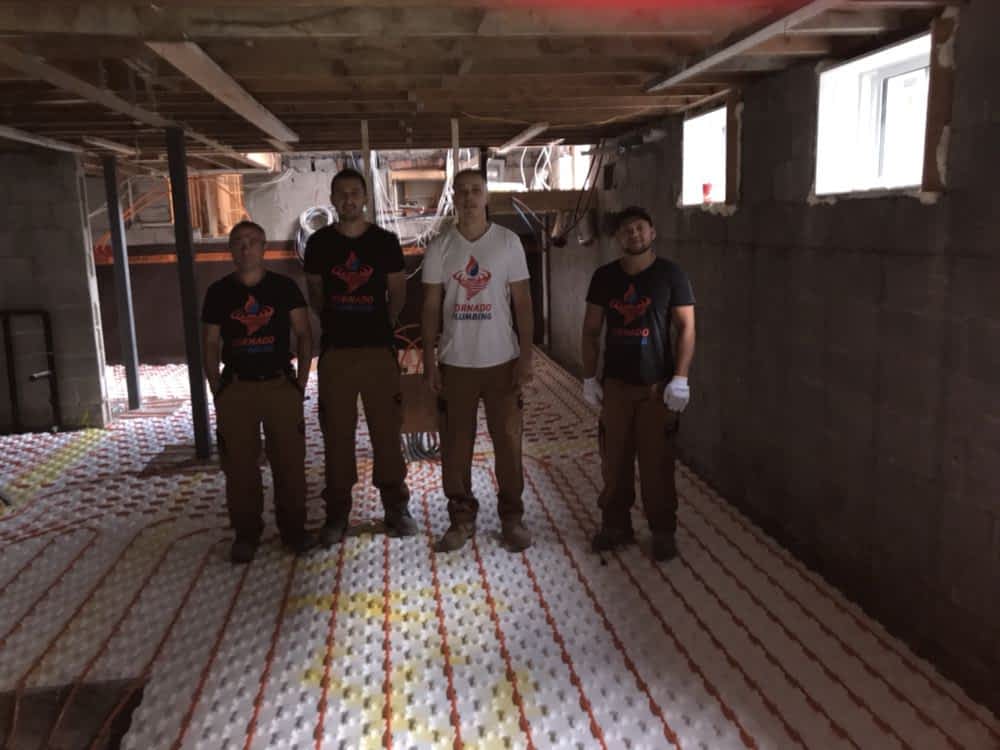 Serhiy and the team are amazing. Always efficient and fairly priced compared to others. I would highly recommend them!!
Brad Comrie
, Toronto Customer
Excellent group of guys! I had a leak in my basement caused by a crack in my foundation. They were very quick to get back to me and to come out and fix it. And they left my backyard as clean as it was when they came. Highly recommend!
Nancy Carr
, Etobicoke Customer
We finished our renovation and unfortunately we got some water Issue in our basement, we got three companies before we move a head with Tornado Plumbing and Drains. Sergey spent Enough of time to find the problem,the crew showed me the crack in my exterior back wall they fixed it and my basement Doesn't leak anymore. I will recommend to all my family and friends, and I will definitely will hire them again to waterproof my another house soon.
Kayla Palmer
, Etobicoke Customer