There are many factors that lead to dampness or leaks in buildings. These include water table rising during high rainfall, groundwater infiltration into outer walls, damp capillary rise leading to water rising up the walls, windblown rain on building facades and condensation of water vapor in moist air. With these in mind, it is important to basement waterproofing Milton.
Tornado Plumbing & Drains consist of a team of professionals making sure the people of Milton enjoy dry basements and damp free homes.
Our Services
Tornado Plumbing & Drains offer a full range of waterproofing services in Milton. We provide lifelong protection solutions, water control solutions and repair damages arising from dampness.
Basement Waterproofing & Repair Services we provide
Waterproofing newer homes
Crawl space Encapsulation
Foundation structural Repair
Basement and crawlspace crack repair
Foundation leak repair
Fix wet basements
Dry basemebt repair
Basement flood protection
External and internal solutions
Sump pumps and battery back up pumps
Flooded Basement Cleanup and Restoration
Finished and Unfinished basements
Free Inspection and Estimate
We repair basement, leaks and seepage. We also help you solve mold, humidity, condensation and drainage problems.
Tornado Plumbing & Drains will give you a free consultation that will allow us to analyze the problem and provide you with a variety of options that you will choose from according to your budget bracket.
The client also has a choice of exterior and interior water control methods depending on the intensity of the problem. This way, our professional workforce will be able to install the proper solutions in the least interfering way possible to give you the best results and leave you with a happy home.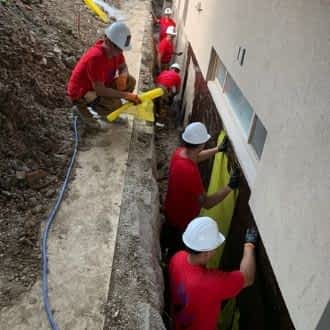 BASEMENT WATERPROOFING COMPANY IN MILTON 
           
If a wet basement is troubling you we at Tornado Plumbing & Drains are here to help you. We take pride in being the best basement waterproofing Milton Company and trusted by the community. We bring to the more than 10 years of experience and have a team that offers you affordable yet permanent basement waterproofing services. We understand the urgency you face with a leaking basement and offer round the clock services to cater to any emergency. We follow the best practices in the industry using high quality materials and the best technology has on offer. As a mark of our professionalism and commitment to quality we offer 25 years of warranty on our basement waterproofing services. Unlike competition we don't sub-contract our work. We have an expert team that can install everything from French drains to sump pumps. Get in touch with us for a free estimate and our representative shall explain to you the whole procedure to ensure there are no unpleasant surprises.
Call us, we can help (647) 784-8448