Tornado Plumbing & Drains provides a wide range of waterproofing services in Etobicoke which can handle whatever problem it is, thanks to the availability of a highly qualified and experienced workforce that can put all your problems to rest and restore the comfort of your home.
Our Services
At Tornado Plumbing & Drains, we have been taught by our years of experience that every client has their own different problems and likewise require different solutions. Therefore, their preferences for waterproofing in their homes are different since the cause of the problems differs. This is why we offer personalized services in Etobicoke for waterproofing.
Basement Waterproofing & Repair Services we provide
Waterproofing newer homes
Basement lowering/underpinning
Crawl space Encapsulation
Foundation structural Repair
Basement and crawlspace crack repair
Foundation leak repair
Fix wet basements
Dry basemebt repair
Basement flood protection
External and internal solutions
Sump pumps and battery back up pumps
French drain
Flooded Basement Cleanup and Restoration
Finished and Unfinished basements
Free Inspection and Estimate
We repair basement, leaks and seepage. We also help you solve mold, humidity, condensation and drainage problems.
Tornado Plumbing & Drains will give you a free consultation that will allow us to analyze the problem and provide you with a variety of options that you will choose from according to your budget bracket.
The client also has a choice of exterior and interior water control methods depending on the intensity of the problem. This way, our professional workforce will be able to install the proper solutions in the least interfering way possible to give you the best results and leave you with a happy home.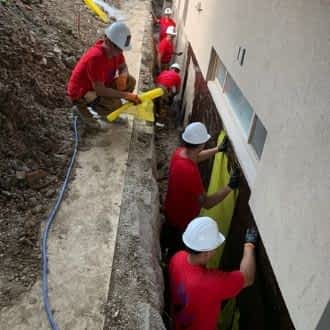 Financing Available for Basement Waterproofing, Crawl Space Repair, and Foundation Repair Services in Ontario
When homeowners in Ontario face wet basement and excessive moisture problems, they may need their individual variant of repair and financing options that are easy-to-use. Tornado Plumbing & Drains can provide you with a free in-house visit first to recommend the best repair and financing variants to suit you.
The financing options offered by us are meant to do basement waterproofing work without much harm to your budget. They also cover the repairs of the foundation, crack mending, waterproofing system installation, and many others. The entire process of your foundation and basement repair will become much easier with Tornado Plumbing & Drains. All the options developed and offered by us are taking into consideration your needs as a priority for smooth and convenient repairing process that won't cost you a fortune.
If you call us right now, we will talk immediately about our financing options available for you in Ontario.